Tuesday, 31 July 2012
Posted by

Bos Tattoo
at 14:26
1 comments

Wednesday, 25 July 2012
Just 48 hours ago, nobody outside a few friends and her immediately family knew who
Michelle Jenneke
was. Today? Millions of people know her name. And all it took was a 5 second dance.
Man, the internet is awesome.
You see, Ms. Jenneke is a 19-year-old track and field athlete from Australia. Over the weekend she competed in the 100 meter hurdles at the IAAF World Junior Championships in Barcelona, and prior to the preliminary heat, she showed the world her rather sensual warm-up routine.
Check it out:
Unique, right?
Well, you know how the internet loves cute girls doing
sexy things
in skimpy outfits. So when the video of this little pre-race ritual went on YouTube, it went viral in about 10 seconds and she became the most famous track star since
Allison Stokke
.
Now there's even a Michelle Jenneke pre-race warmup remix:
As you can see, Jenneke's sexy warmup routine worked very well, as she blew away the competition in her heat. Unfortunately, it didn't do much for her in the 100 meter finals, as she finished a disappointing 5th.
Now I know what you're thinking, and no, she won't be at the 2012 Summer Olympics. But she's only 19, so who knows—maybe Rio 2016?
PROFILE :
In July 2010, Jenneke was a part of Australia's team at the
2010 Singapore Youth Olympic Games
, running the 100 metres hurdles and the women's medley relay. In the hurdles, she came second after winning her heat, and the medley relay team came fourth.
[2]
On 15 July 2012, Jenneke finished fifth in the 2012 IAAF World Junior Championships 100 metres hurdles.
[4]
After the competition, a video on her 100 metres hurdles time trial taken during the heats race, which was subsequently posted on a video social networking site, raised her profile around the world. Jenneke even received an offer to pose for nude photos from Sex.com in exchange for a "sizable donation" to the Australian Sports Commission (ASC).
[5]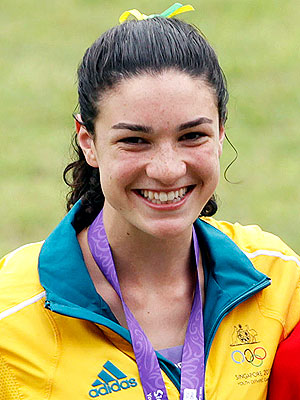 Posted by

Bos Tattoo
at 13:32
1 comments